Updated Sept 20, 2022
Like many other marketers, you're probably putting a lot of emphasis on social networks, search engines, and other avenues to reach your prospects. But despite all the buzz about modern digital marketing strategies, it's imperative to ensure that you aren't overlooking one of the oldest and yet most effective marketing channels – email marketing.
There's a common misconception that email marketing isn't as effective as it used to be. Some marketers believe that today's email recipients ignore their messages more often than they open them. And that makes sense, considering there are lots of spam and low-value content popping up in people's emails, but this is not completely true.
Email marketing has, is, and will continue to be an effective digital marketing tool. In fact, email ranks third as the most influential information source for B2B audience, coming only after niche-specific experts and colleague recommendations. That said, if you haven't been using email marketing as part of your overall digital marketing strategies, it's time to start.
According to a Statista report, the total number of global email users was 3.9 billion in 2019, and projections show it will rise to 4.48 billion users in 2024. It further shows that about 281 billion emails were sent and received globally every other day in 2018 and that the number will increase to more than 347 billion daily emails in 2023.

These numbers alone should help you make an informed decision regarding the use of email marketing for advertising. That's particularly accurate if your primary goal is to expand your reach to a larger buying market. But if you'd wish to learn more about what email marketing can do for your advertising, we've got you covered.
What is email marketing?
Email marketing involves the use of emails to communicate a relevant message to your target audience. It is more or less similar to direct mail, but more accurate in its targeting. Also, you send your message electronically instead of through the postal service. Email marketing can include promotions of deals and sales for subscribers or email newsletters with updates on your business. The emails may also share general information on behalf of the company in the event of a scandal or natural disaster and so on.
Creating a successful email marketing campaign
A successful campaign will get the recipient to take the desired action – whether it's to buy, subscribe, or help you get more sales and leads. But you'll need to do some prep work if your campaign is to be effective. Here's how to create a successful email marketing campaign
Start with an email list of qualified leads. These are people who've already showed interest in what you offer.
Ensure you know your goals, whether it's to welcome new subscribers, nurture or reengage existing ones, or boost engagement.
Understand email types. Decide if it's promotional email, professional emails, relational emails, or transactional emails. Transactional emails are common and include welcome messages, subscriber signup confirmation, order/purchase confirmation, and acknowledgment of subscriber information changes.
Know your audience – you can gather this data from Facebook Insights or Google Analytics, and so on.
Use technology – many technologies exist to help make your work easier. Email marketing automation tools, for instance, help you schedule transactional emails or even respond quickly to clients.
Create great opt-ins. This should be appealing to the eye
Plan email follow-ups to existing customers
Craft your subject lines – those that make people want to click and read
Write a copy but keep it precise and detail-oriented. Effective emails also include call-to-actions severally throughout the copy
Focus on email design. You need a great email design that's responsive and accessible. Include alt tags for those can't see the images to know what it's about.
Test and track. Before sending an email, you should test everything to make sure it's working.
Monitor and improve through split testing. It's equally imperative to track email analytics on open rates, high unsubscribe rates, and click-through-rates. This will help you know what's working and what's not.
How email marketing works for advertising
Email marketing tactics are one of the most effective ways of communicating with your prospects and customers alike about a product or service. When done correctly, it can help you capture attention, boost sales and maximize profits. Here's how email marketing work for advertising.
Provides a way to reach customers in real-time
In business, timing is everything. If you can deliver your message and have your target audience open in real-time, then that's a big win. The good thing about a marketing plan in which you advertise your solutions through email is that you'll have an opportunity to reach more prospects in real-time. A Litmus analysis of emails found that 56% of emails get read on iPhone and Gmail. Today's clients read messages through their mobile devices. In fact, sites like The It Girl Guide claim they have almost 95% of their views from mobile devices. So it is probable that clients are likely to see your ad even on the go. Just try to avoid long paragraphs and large image files. Also, try emphasizing urgency with time-sensitive deals to discourage users from using functions like snooze and so on.
Almost everyone uses email
More than 90% of consumers use email. This is another great motivation to start using email marketing for advertising. Email marketing gives you an incredible opportunity to tap into this diverse market. With your prospect's email address at hand, you can send out special promotions, discounts, and other ads to get them to buy.
Influences buying decisions
A nationwide survey by Fluent looked into millennials' interactions with different online media platforms and how they influenced their buying decision. The findings revealed that digital advertising mediums had the same levels of influence on their purchase. However, promotional emails edged out other digital mediums. 68% of millennials said it occasionally influenced their buying decisions. Social media platforms and ads on websites/news had 63%, while promotional text messages had 56%.
Promotional emails do a great job appealing to millennials to take action. The survey revealed that these emails were 10% more effective at convincing millennials to buy than the older generations. So, a highly customized email could yield even better results.
Email marketing is easy to measure
There are many tools designed to measure and analyze email performance. So, when you send out advertising emails, you can easily monitor delivery rates, bounce rates, click-through rates, unsubscribe rates, and open rates. With this information, you'll know the effectiveness of your ads, as well as where to adjust or do an overhaul.
Delivers a strong return on investment
Email continues to deliver a strong ROI. According to DMA, 2019, you can expect an ROI of $42 for every $1 you spend on email marketing. On top of that, email advertising allows you to reach a large customer base at a lower cost. So, think of it as a cost-effective way to advertise your solution.
-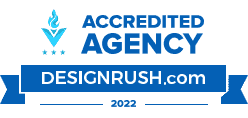 Redbear knows how important good design is. We take pride in every image or video that has our client's name on it.
Building a brand is simple -- once you have a clear view of what is meant by the word "brand." Unfortunately, it is the most misunderstood concept in marketing. All too often, when a small business owner is asked about their brand, the first thing they start talking about is their logo.
This is not your fault. It's our fault as an industry. Over the years, we've buried the otherwise straightforward meaning of "brand" underneath layers of esoteric BS.
Your brand is your reputation, plain and simple
"Your brand is what people say about you when you're not in the room."

Jeff Bezos
Wise words from Jeff. Just for a moment, think about your brand as a person. Intuitively, you know everything you say and do can affect your reputation. You might be tall and handsome, but you seldom follow through on your promises. So what sort of reputation will you earn, and can you fix it by dressing up in a new suit?
Billionaire bon vivant Jeff Bezos spent most of his working life in corporate boardrooms. Donning a cowboy hat for the Texas launch of his big rocket doesn't all-of-a-sudden make him a cowboy. That cowboy hat blunder was like putting out a press release shouting, "I want you to believe I'm rugged, rough, and tough now." The trouble is, who's going to tell him the hat doesn't match his brand personality?
"That's like putting lipstick on a pig."

Anonymous Cowboy
It's the same with your brand. To promote your business, you can change the logo or advertising all you want, but it will not change your brand's reputation if you don't follow through. You must address any issues, or it won't affect what people think about you and the promises made by your company.
Companies that want to change their reputation spend hundreds of millions of dollars every year. Unfortunately, many end up spending their money on a refresh of their brand id or ad campaign instead of doing the hard work necessary with their products and services.
Again, this is not your fault. It's our fault as an industry. There are too many agencies ready to take your money without asking you any of the tough questions. Without these, how will you make sure your brand differentiates itself from your completion? Instead of working together with you to get results, they walk in with all the lipstick colors in one hand and the other hand in your wallet.
Here is a list of questions to help you create brand-building strategies.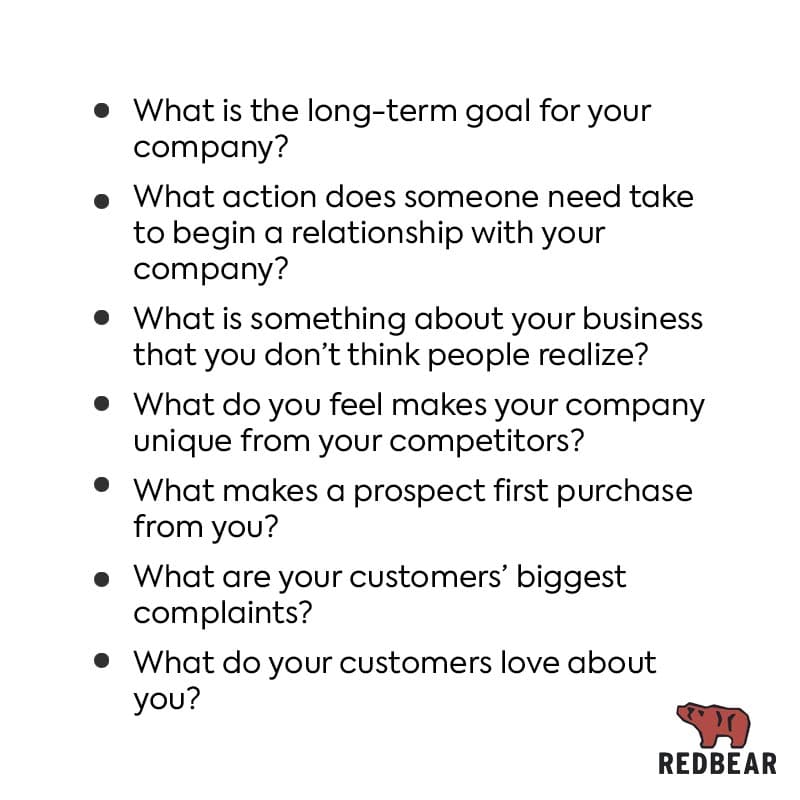 The new KIA logo
Let's take a look at the automaker Kia. Recently, they redesigned their logo, and it has earned them rave reviews. Their new logo embodies modernity, innovation, and a clever tip of the hat to their Korean heritage.

Did the rave reviews come from people who admire the design of the logo, or was it because a car company that has been leading the way with modern, well-made, and well-designed cars now acknowledges these achievements with a new logo? Would a new logo have made the same impact if Kia made awful cars?
Changing the logo or changing the advertising campaign might well bring you more brand awareness but are you ready for it?
How do you know what they're saying about you?
Are you sure you know what your existing customers and prospects think of you and your products or services?
If you're not sure, ask yourself these questions and then get the truth from your customers and prospects:
Do your customers and prospects trust you?
Do they think you're "nice" but behind the times?
Do they think your people are great but what you offer is lacking or vice versa?
Does anything other than the lowest price keep them coming to you?
Do they see you like a bit of a rebel who's shaking up the marketplace with new services or innovative products?
Do they see you as a reliable authority and an expert in the category?
Do they see you as a dinosaur who's ready to be taken out by a newcomer?
There are literally dozens of additional questions you can ask your customers and prospects to capture and define your current reputation. Once you know where you are with your target audience, you can then set a goal and create a brand-building strategy to get there.
Are you about to fall into the brand trap?
Which of the following do you believe is correct?
Your brand is what people think of you
Your brand is what you want people to think of you
Both are correct if you can keep the cart before the horse. Like it or not. It's all about your customers and prospects. You can try to steer your brand all you want, but it's not going to work if your target audience isn't on board with you.
Your brand is everything they think about your company, your people, products, services, and position in the marketplace. This happens through their direct experiences with you, what they learn about you from others, and finally, what you communicate to them through every aspect of your marketing – not just your advertising.
Do you have a brand gap?
A brand gap is the difference between what your customers/target audience think of your brand and what you want them to think. The bigger the gap, the more work you need to do. The good news is that being aware of your brand gap helps establish your goals and set your strategy for getting there.
Set your true north
How do you navigate your brand gap? How do you deal with the complexity of multiple social media platforms, expensive pay-per-click buys, and sophisticated search engine optimization plans? Whether you own a local business or operate nationwide, be crystal clear about the reputation you have and the reputation you want. This is your true north, and it will help you find the results with the money you have.
It makes no difference if you're a consumer or business-to-business brand; hold on tight to your true north. It will help you guide you whether you're simply trying to decide which email list to buy or if you're taking on the challenge of creating a unique national television campaign. Know your true north. Know your brand.
Quick – can you hum the theme music from Jeopardy? How about the music from Star Wars when the Storm Troopers are marching? The tv show Hawaii Five-O? How about Friends?
Music can mean a lot more to you than you realize. Music is all around us, working its magic. We may not even notice it on a conscious level, but it's there, working "behind the scenes" to create a powerful impression.
So choosing the right music for your message can make all the difference. And when it comes to your advertising, especially your video content, not using music can be like tying one hand behind your back.

Music makes your message work harder
You can order a juicy cut of steak or freshly picked salad greens, but without seasoning or dressing, all that flavor falls flat. No matter how well-crafted your script or how stunning your images are, the right kind of music will make your message more powerful and more memorable. When you add music to video, you're improving your odds of an excellent ROI on your marketing.
Mnemonics and music
If you want someone to remember something, add a tune to it. A mnemonic device is designed to assist memory, especially as it applies to a tagline in advertising. Adding music to a line of copy can become a mnemonic. Done properly, the tagline becomes inextricably connected to the music and vice versa. Jeopardy and its distinctive theme music are forever united.
No time or no money for music?
We get it – there's no time. Working on your ads and video content can be exhausting. There's always more to do than you have time for. Getting the words and images right is number one, and music can become an afterthought.
Please don't make this mistake. There isn't a television commercial, a video, or a movie worth remembering that isn't energized by the music. Follow along, and we'll show you a few ways you can make it memorable.
Ask About the Royalties
Match the Music to Your Brand
Music Tracks Make Emotion
Is the Music In-Sync With your Story?
A Good Intro and Good Outro
Set Your Budget at the Beginning
Show me your License
1. Ask about the royalties
Adding the song One by U2 to your ad would be great, but you better be ready to sell the house and your whole neighborhood. If you plan to use your content across multiple platforms, it's good to double and triple-check to see if you have the right to do so without extra costs.
When you add audio to video, copyright infringement is a serious risk. It's too important to leave to the last minute. There's nothing more annoying than having to unsell a piece of music when someone has already fallen in love with it. Sort this out ahead of time. Then, check out your options using a royalty-free music catalog or audio library.
2. Match the music to your brand
The bad news is even finding the most amazing music to pair with your perfect images and words may not be right for your brand. The good news is you'll be able to tell as soon as you hear it. If it makes you cringe, move on to something else. There's a visceral reaction you get when the music isn't right.
Working on your marketing can become a sort of creative commons with the rest of your team. Just be sure you discuss which style of music you believe matches your brand at length. Don't assume everyone will know ahead of time. Be prepared for a spirited debate.
3. Music tracks make emotion
The right sound can bring structure to your work. And the right emotion for your message needs to peak at the right time. It's more than just a matter of keeping pace with the message. Your music can shine a bright spotlight on the most essential points you want to make. Be sure you don't overuse this technique. If you highlight too many things, no one thing will stand above the rest.
This isn't a music problem. This is a problem with your strategy and your message prioritization. No matter how good your video clips or video effects are, be sure to edit videos with brevity.
4. Is the music in sync with your story?
Don't fall in love with a piece of background music before you know exactly where your story is going. It's essential to match the tone of your music to the tone of your narrative. No one notices if you do an average match. Everyone will notice if you do a good one, and it's the same with a bad match. The same goes for sound effects and music tracks. Always keep your story front and center.
5. A good intro and a good outro
Sometimes a little bit of music does a lot. Ad pacing is one of the benefits available to you when you find background music that works. Think about whether you need music as background for the entire content or whether a good bookend would be better. A short and sweet piece of music at the beginning and one at the end may be the best solution for you and the content.
6. Set your budget at the beginning
This will always save you time and money. However, if you have a limited budget, finding the best music may take some extra time. Setting the parameters at the beginning gives you your best chance to get it right for the right price. Also, be sure to look around when it comes time to search for content. You might find some videos for free. Just be sure to check out the rights.
7. Show me your license
Those words can be scary if you haven't done your homework. There are four types of licenses used for music. Make sure you have the right one for what you're planning to do.
Free License – This covers music in the public domain. It can also cover music that has a creative commons license. Be sure to double-check.
Limited License – This describes a royalty-free song with very specific usage limits. For example, you might be able to use the song for a non-commercial purpose, like a training video. Make sure this doesn't somehow end up in your advertising, or you'll have to pay for it.
Paid License – A song you pay for in a specific application for a specific number of times or duration. Again, the devil will be in the details, so make sure you are ready with all possible uses in mind BEFORE you negotiate the terms. Being forced to pay after the fact for something someone forgot to mention can be very expensive.
Rights Managed – Again, this will be all about the details. How will the song be used, how much it will be used, and how many people will be exposed to it are examples of some terms that can be agreed to and followed.
Who wants to teach the world to sing?
When you get everything right, it's all worth it. In 1971, Coca-Cola aired its famous tv commercial, and many of us connect that song with the brand still to this day.
Like it or not, there are already over 50 million Americans who have become Cord-Cutters/Cord-Trimmers and Cord-Nevers. In varying degrees, they have said "No" to cable or satellite companies, and this will most probably affect your digital marketing and that of your competitors as well. This article will dig deeper into what's going on in the marketplace, how this relatively new consumer behavior is growing in popularity, and what implications this can have on your marketing strategy.  
More than just a few nerds on the fringe
Cord-cutting was relatively rare among the average American consumer only a handful of years ago. Today, some analysts describe the growing trend of cord-cutters as dismantling the cable tv industry. But, if recent history has taught us anything about digital consumption, today's 50 million cord-cutters will soon double and triple faster than our ability to accommodate the implications.

Who are the 50 million?
Cord-Cutters and the less common moniker -- Cord-Trimmers, have pared down or completely severed their tv content relationship with their cable or satellite provider. Specifically, Cord-Cutters, as the name suggests, no longer pay their cable company for tv content. However, some may still receive their internet access and telephone landline from their cable company.
On the other hand, Cord-trimmers usually purchase the bare minimum of tv content from their cable company. There may be several reasons for this, not least of which may be a "bundled price offer" made by their cable provider. In this way, some cable providers "force" a minimum purchase of cable tv so that consumers qualify for a more reasonable price on the internet service they want.
Cord-Trimmers in this category may consume all of their tv content by streaming it through providers like Apple TV, even though their contracts identify them as cable tv buyers. This means the number of streaming-only-group might be even more significant than we realize.
Cord Nevers are entirely different. These people have never received their television content from a cable company, and today they represent approximately 31 million people. They consume a considerable amount of content through streaming.
What do we know about them?
Cord-Nevers tend to be younger. 90% of Americans aged 25 to 34 use a digital streaming service and are not interested in traditional long-term contracts for their tv viewing. They are most likely to be Youtube watchers, mobile-oriented, and active in social media. There are regional differences for these groups across the country, and generally, these differences follow well-known tech adoption trends.
Cord-Cutters and Trimmers a skew a little older to 49. As this trend becomes more popular, the age segment stretches a little older. As the idea spreads, more and more older people are joining in.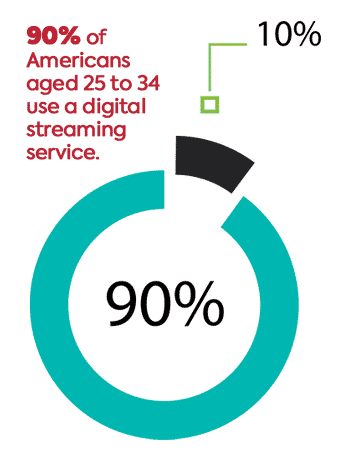 These people are digitally savvy and consume a significant amount of content. Binge-watching their favorite shows is common among this segment.
What motivates cord-cutting and trimming?
Saving money: "Do you want fries with that?" is an all-too-common pricing practice among cable and satellite providers. What begins as a reasonably priced introductory offer quickly balloons into exorbitant fees piled up as high as a car payment. Each new "add-on" helps providers nickel and dime their way to emptying your wallet.
Depending on the streaming service, the fee to watch the same amount of content is only a fraction of what it would be for a traditional provider. For example, Apple TV starts at only $4.99 a month. Netflix basic is only $9.99 a month. Hulu is $11.99 a month.
Multi-way streaming: Multiple people in the same household can watch their favorite programs and films using a wide variety of smart devices. No more squabbles about whose turn it is to watch their favorite movie. Everyone gets to watch what they want on their own device. Some serial tv programs can be downloaded ahead of time and then watched on a plane whenever or wherever they like – even when unable to connect to wifi.
Wide variety of services: Cord-Cutters and Cord-Nevers can enjoy a growing number of ideal replacements for a traditional broadcast tv program. Instead, they can cherry-pick their very own mélange of content through services like Hulu, Disney, and Netflix.
Keep your local favorites: It's difficult to estimate how many people still haven't "cut the cord" because they don't want to miss out on local news and live sports. However, they may not yet be aware that some services like Hulu + LiveTV enable you to continue watching these and cutting the cord.
Review additional marketing research here.
How can this affect my marketing strategy?
Even if you and your competitors don't currently participate in media buys that involve broadcast tv, everything is changing so fast the time might be ripe for you to start planning on taking advantage of all the changes. New, cost-effective video marketing strategies are made possible because of highly-targeted campaigns that wouldn't have been possible with traditional broadcast tv buys.
Branded Youtube Channels
You don't need a whole broadcast network media-buy to get the word out about your product or service. Content marketing populated with your own customer testimonials and video ads can work wonders for you on Youtube.
OTT and CTV
Video views are video views, and they're sometimes even more effective when you can pinpoint them to a very specific target. OTT (Over The Top) refers to streaming content to customers directly over the web. Online videos you may already have and/or new short videos featuring your product or service can easily be added to this content.
CTV (Connected TV) refers to any screen connected to a streaming service. This includes gaming consoles and smart tv.
The benefits of OTT & CTV
- Highly targeted, precise audiences eliminate the waste of your message going to the wrong people
- Rapidly growing market of young consumers who are cord-cutting from which you can mine your prospects
- Extraordinary measurability. For example, you can measure impressions by daypart, device, date, and day of the week.
Do you have a solid and effective marketing strategy that includes cord-cutters?
"Protect your passwords." Although you've heard it a hundred times, maintaining secure passwords is still the Golden Rule to protect against a data breach. As simple as this is to follow, this Golden Rule is often ignored, bent, or broken and hackers and scammers know it. Countless attacks that cost American small businesses millions of dollars are a result of lax password security. Often, victims are completely embarrassed when successful attacks are investigated.
Test Your Security Knowledge
Strong passwords, unique passwords, and multi-factor authentication are only part of the story. Take the next few minutes to read over the security measures in this article to test your knowledge. You may be in for a surprise or two.
Can A Weak Culture Cancel Out Security?
No matter how sophisticated your security systems are, hackers and scammers attack the weakest point. Sometimes, that's your people. Companies who build a "security culture" make thorough, consistent, and engaging efforts to make their people aware of just how important they, themselves are to the security of the company and its data assets. They invest in support teams to educate, train and remind staff of what's on the line and how it's everyone's job to keep the company safe from hackers and scammers.
By now, we've all heard multiple warnings about receiving a fraudulent email that requests your username and password. These warnings have been around quite a long time. Generally speaking, people are vigilant and know not to respond to suspicious-looking emails. This is Phishing and it's still a common form of attack.
Vishing is less common and because of it, perhaps more dangerous.  Vishing or voice phishing involves a fraudulent phone call from a completely innocent-sounding person who tricks you into giving up important personal and security information. It could be a phone call from someone who introduces himself or herself as a member of the security team hired to consult on the company's hosting security protocols, or it might be someone who charmingly introduces themselves as an important client who just needs a little help.

Kevin Mitnick really exploited these sorts of techniques of vishing to effectively evade the FBI for years. These people are excellent at building rapport and making you think their intentions are harmless for the sole purpose of exploiting information they can use later. Mentioning manager's names, posing as other departments, is the most common form of security breakdown in the workplace.
Ask yourself this question: How many people at your company would refuse to help someone who calls from the company that operates your offsite web server? How about someone posing as a senior manager from the cloud hosting team and who just wants to let your employee know they are doing something incorrectly when entering their password?
DATA ENCRYPTION – Sounds complicated but it's pretty simple thanks to open source plug ins to make emails bullet proof. As for protecting files, those who use MS Windows are able to encrypt your files with software that will scramble your data in order to render it useless. Both Apple OS X and MS Windows have several built-in programs to help you stay secure.


MAKE IT SECURE WITH ANTI-MALWARE – Even though your employee is at the office, scammers and hackers are sneaky enough to disguise a fraudulent email as coming from a friend or a useful website. Next thing you know, malicious software has infiltrated and or damaged their computer without any consent.


UPDATE UPDATE UPDATE – This one is as simple as it gets and yet, like your kids forgetting to brush their teeth, updates fall behind. Staying on top of updates can be a pain but they're a necessary evil. It's a simple and cost-effective way to protect your computers


PRACTICE PRINCIPLE OF LEAST PRIVILEGE (PoLP) - Some devilish do-it-yourselfers, like to log into a computer using administrator rights (or as a Power User in Windows) This isn't limited to single person IT departments in struggling small businesses. Extreme data breaches have occurred in larger companies for the same reason. Regardless, the dangers of doing so can be catastrophic. One only has to visit an unfamiliar website with these high security, high privilege accounts and the damage is inevitable.


CHECK CONFIGURATION APP PRIVACY SETTINGS ON MOBILE – Whichever mobile devices are preferred by your people, make sure the settings are set to choose the least amount of data-sharing possible. You do not want these apps collecting more information about your business and taking control of more of your devices than you'd like.


DEFINE AND PROTECT YOUR ID – When is the last time you or one of the people at your company has been asked to define your PII? Well, the times are a  changing. More and more privacy experts are recommending each of us define our Personally Identifiable Information (PII), and then decide who gets what. Unscrupulous organizations can gather an astonishing amount of information from the tiny scraps of information we let leak out during our day-to-day activities. These "scraps of data" are used to profile and even somewhat predict our behavior.


DON'T IMMEDIATELY TRUST HELP AFTER A DATA BREACH – Data breaches are often made public when it comes to large organizations. Beware of offers to help "secure your data" from companies who might be looking to commit fraud with your information.


STORE "IN-HOUSE" – Your most sensitive data should be stored locally. Even if you regularly use cloud storage, your most sensitive information and the information you may need most during an emergency could be stored on a removable storage device you can keep in a high security, fireproof safe. There's no way to predict all the circumstances under which you might need to retrieve this information. It's good to know you won't need to rely on anyone else.


EMAIL PROVIDERS NEED TO BE SAFE AND REPUTABLE – Not all email providers are equally safe and worthy of your trust. Take all necessary steps to make sure your email provider is using the most up to date technology when it comes to protecting your data.


CONSIDER DEDICATED HOSTING FOR WEB PROPERTIES – If your website is hosted on the same server as a website that becomes compromised, you may pay the price by not just performance, but losing your site completely from malicious intent.


WHEN A BREACH HAPPENS, FIND OUT EXACTLY WHY – Every breach or hack has a ripple effect and one of the worst is to ignore or misinterpret what exactly caused and contributed to the event. Don't stop looking once you find the first problem.
Start With Security As a Top Priority
If you have the opportunity when building your organization, begin with security near the very top of your list. It will cost you a lot less in the long run. Ask yourself, "Which option is most secure?", whether you're deciding between site builders, hosting options, content management approaches, or even website design. It's always better to start your foundation with solid security than it is trying to scramble after a data breach.
A solid blog post positions you as an industry leader, drives traffic to your site, improves your SEO, and converts prospects into buying clients.
You probably know that by now, but the question is: how do you write a solid blog?
Let's face it. Writing a solid blog is overwhelming, especially if you are just getting started with content marketing for your business. It takes some practice to get to the stage where you're regularly producing quality content that attracts and converts. That's why many businesses prefer to have their blog written by professionals.
Qualified writers have vast experience handling any type of paper. They guarantee quality work and timely delivery every time. But even so, it pays to know how to do it yourself, so that you can tell good copy from a bad. To help, we'll share a few shortcuts that you can use to write a solid blog in no time. Before we share, let's make sure we are on the same page.
What is a blog post?
According to HubSpot, a blog post is an article, guide, or white paper that's published in the blog section of a website. It typically covers a specific query or topic, it is informative and it contains other media types like infographics, images, interactive charts, and videos. Simple, right?
How to write a solid blog post in 6 steps
Decide what you want to write about
The most important decision you'll make is what to write about. Sometimes, that will be an easy decision. But other times, the choices can be overwhelming. Ideally, you want to consider three things when deciding what to write about.
Your target audience: Before you start to write, run an audience analysis to get a feel of your prospects, their concerns, preferences, pain points, needs, expectations, and interests. These details will guide you when writing your blog.
The purpose of your blog: Your blog post should take you one step towards fulfilling your blogging goals, whether it's to educate or engage your audience or get them to take a specific action.
The nature of blog content: this is primarily tied to your purpose. For example, if you want to engage your audience, you can focus more on trending issues and topics. But if you want to educate them, then your blog post should be informative.
Expert Tip: Use data to find out what your target audience is searching for online. Often you can find longtail keyword phrases that tell you what your prospective buyer is searching for. At Redbear, we use proprietary software to understand the search habits of your customers as well as what's driving them to your competitors.
Come up with a compelling title.
Once you decide what you want to write about, your next step is to come up with an irresistible title. Titles are significant, considering 8 out of 10 people read headlines, but only 2 out of 10 click on them. Your audience has pain points and needs solutions. If your blog has a headline that's specific to their concern, they are more likely to click.
Professional blog writers almost always do one or more of these things to create an irresistible headline:
Write multiple titles for every article, then pick the best one.
Add numbers (preferably odd numbers) into the title to make it more compelling
Use brackets or parenthesis to stir curiosity, boost credibility, and reference additional bonuses
Use colons and hyphens to add visual variety and increase click-through rates
Use questions to generate curiosity and provoke thought
Add SEO keywords to optimize content for search engines
Write an introduction that's captivating and informative

Introductions are first impressions – and your best shot at keeping the reader glued. Good blogging always connects with readers from the first sentence.
A great introduction will have:
A hook: which is a single sentence, word, or phrase that pulls the reader into your blog entry. It could be a closed or open-ended question or the thing that inspired you to create the blog, etc.
Transition: is a sentence that connects the hook to the blog's body and clarifies the tile.
Thesis: summarizes the topic and enhances the reason why readers should continue with your blog post. A thesis might reiterate the title too.
Follow these steps to create a killer introduction that captivates readers.
Start by describing an emotion to get the readers to say, "This guy understands me."
Play off their dreams and hopes – you can even tease them to build anticipation
Promise something the reader wants – make them know you're going to address their concern
Transition by hinting at how to solve their problem
Write content that's easy to digest and impossible to ignore
Now you are ready to write the content, but before you proceed, it might be a good idea to draft an outline of your content. Blog posts can have overwhelming information for you and the readers as well. The trick is to organize your work so that no one is intimidated by the amount or length of content. You also want to create quality content that ranks well on search engines and helps you achieve your marketing goals.
Here are a few things to keep in mind when writing your blog.
Break up the page with shorter paragraphs and subheadings
Breaking up your text into bite-sized, easy-to-read pieces not only improves readability but also allows crucial information to stand out. The easiest way to break down your text is to incorporate subheadings and to break your paragraphs into less than five lines.
A good subheading should:
Do a better job at grabbing readers
Compare to your main headline
Focus on points that you want to put across
Follow a format to achieve what your headline promises
Use bullet points
Scanning text is a prevalent behavior among higher-literacy readers. Besides, visitors only read about 20% of the text on the average page. Bullet points are easy to skim, allowing you to spoon-feed your readers in a way that keeps them coming back for more.
Add images
Content containing visuals like videos or images performs better- on average, getting up to 94% views. So, try adding relevant screenshots, images, and infographics to your blog content to stir engagement and also make your content memorable.
Don't forget the tone of voice
Your tone of voice plays a vital role in how you cut through and connect with your audience. Striking the right tone implies you are socially aware. It helps you build trust, and influence, making it easy to persuade and convert more people. So, identify the tone you want for your brand and be consistent in your content.
Optimize your content for search
The newest 2021 data shows that a staggering 7.5 million blog posts are published every day. Unless you optimize your blog content for search engines, people might never discover it on search.
Here are some blog SEO tips to make your blog post stand out.
Add SEO elements like focused keywords, meta title, and meta description
Perform competitor analysis to outrank the competition
Avoid using too many similar topic tags
Optimize your image with image alt text
Use URL structures that help your visitors
Create evergreen content
Add a clear call-to-action (CTA)
According to Unbounce, 90% of visitors who read your headline also read your CTA copy. CTA is an appeal to readers, inviting their response. Include one to spur your audience to take any step: buy a product, download a PDF, click through to another page, etc.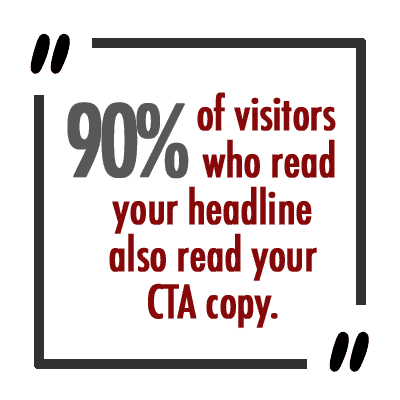 Examples of CTAs to include at the end of page blog post like:
Read more
Try it now
Buy buttons/add to cart
Social media share buttons
Write a solid close
While there is no hard and fast rule on closing your blog or research paper, there are simple tips and tricks for closing effectively.
Emphasize the main message
Give readers a reason to act with urgency
Be inspiring, motivational, and a cheerleader
End with a conversation activator-like question that gets the readers to engage and comment on the post
Let a blog writer help
Let's face it. Writing a solid blog post can get tricky when you have no experience. You can end up staring at a blank word document for hours on counting. If this is your case, you might benefit from a blog writing service. A professional writer will take the stress out of your writing experience and deliver custom writings that will appeal to your audience.
ORANGE COUNTY, Calif., July 23, 2021 /PRNewswire/ -- Having worked with clients such as Land Rover, Jaguar, Southwest Airlines, Best Buy, Shell, Invisalign, and now UCI Health. It's fitting that Redbear was awarded Emmys® for producers PJ Haarsma and Drew Lewis on their latest commercial "Journey" for UCI Health at the Pacific Southwest Chapter Awards show on June 4th, 2021.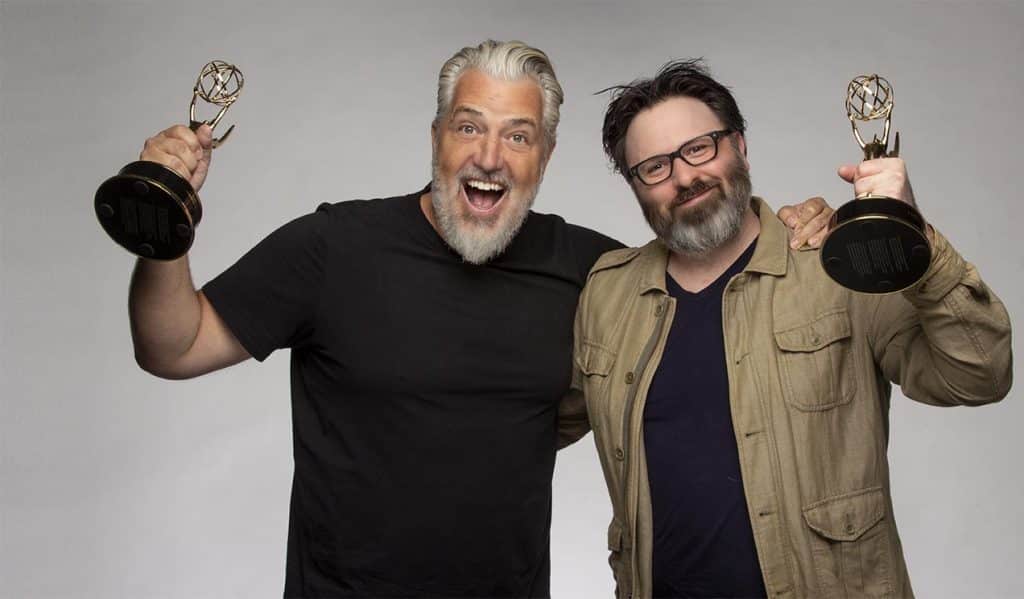 "I have won a few awards in my 30+ years of working in film and production but an Emmy® award feels special," says Redbear Films Co-Owner and Executive Producer, PJ Haarsma. "I couldn't be more proud to bring the award home to my family and to the entire Redbear team."
Redbear has grown in recent years from a photography and commercial production company to a hybrid agency that has verticals not only in production but digital marketing, TV production (Con Man), publishing (The Softwire), and original content (Retro Replay).
"Imagine if JJ Abrams' Bad Robot had a baby with Gary Vanychuck's Vaynermedia...that's Redbear." Says Head of Content and Co-Owner of Redbear, Drew Lewis. "Every day we're doing something crazy and fun here at Redbear so winning an Emmy® feels like justification for all the long hours and sleepless nights."
Redbear is currently focused on its 4 verticals - marketing, original content, TV & film, and publishing. This summer Redbear marketing will be launching a rebrand for ONE® Condoms and producing a commercial for Fruit of the Loom.
Its TV division is currently in development for the TV series Ohana set in Hawaii. While the ever-popular show Retro Replay headlines their original content play. This will be Redbear's 5th Emmy® nomination and first win in 5 years.
Let's go back to when having a website was a luxury. Businesses would hire web designers and graphic designers to create beautiful websites only to serve as a validation tool. With little to no competition, businesses had to do the bare minimum to rank on search results.
But along the web design time travel, Google was born, content management systems launched, and internet speeds increased. Bloggers created WordPress sites to take advantage of the easy drag and drop editor. They didn't have to depend on the IT department to blog or share the content anymore.
Then we entered the mobile revolution and social media, and the focus went from web creation to web customization. In the following years, maintaining an online presence & digital marketing became only a part of a huge puzzle.
Businesses now have to outshine the competition and also capture the attention of easily distracted users. Businesses with online stores face unique challenges like making changes in real-time. Discussions about open source resources complicate things further and there's also a constant threat of cyber-attacks and so on.
With the new challenges companies face at the digital frontier, testing has become an important part of a successful website. Testing your website:
Minimizes the errors and bugs on the site
Makes your business more user friendly
Ensures compatibility with different platforms and devices
Improves search engine rankings
Removes conversion barriers
Sets you apart in the market
Negates the need to redesign website continuously
Boosts website security with a vulnerability scanner

Here are five tools we recommend to test your site
SEMrush
Your site will go through many different changes throughout its life cycle. These changes will alter some technical, off-page, and on-page SEO aspects. Periodic website audits can help ensure your site is in good operational standing – and that's where tools like SEMrush come in handy.
The SEMrush site audit tool can scan your site for 130+ technical and SEO issues. It provides in-depth information that helps you make changes and improvements that can improve your site's performance. With SEMrush, you'll:
Be able to perform deep technical SEO audit of your site to identify and fix issues that affect your rankings in search engines. Once you perform a site audit, you'll get a summary report of your site health score, crawled pages, along with critical warnings, errors and notices.
Get thematic reports that provide insights into technical aspects of your site's performance. These include the HTTP stats, crawlability, internal linking structure, and site performance metrics. In a nutshell;

Crawlability score shows how accessible your site is for search engines.
Site performance score tests page load speeds.
Internal linking report points out any linking issues.
HTTP stats track you're your application security.
Identify things you can do to boost the ranking of pages on your site.

The Total Ideas Section highlights pages that need optimization and ideas to get you started. It provides on-page improvement ideas, secondary keywords, readability factors, content length, and backlink opportunities. These ideas include strategy, content, SERP features, backlinks, UX, technical issues improvements, and content semantics.

GTMetrix
GTMetrix is a web performance analytics tool that analyzes site performance and page load times and provides a list of actionable recommendations to improve it. The tool can help you develop a faster, more efficient, and all-around improved site experience for your users. With GTMetrix, you can:
Perform GTMetrics allows you to track periodic updates of your site's performance and view them on interactive graphs. It groups the results into three parts:

Page Speed & YSlow Scores
Page sizes and request counts
Page timings

Track competitor's sites for a SWOT analysis.
Analyze:

Site's Fully Loaded Time to know how long it takes your site to load in seconds.
Total Page Size in MB and the total number of assets that your site uses at any given time.
Page Speed score – and a breakdown of 25 metrics that affect page speed. You can see the images on your pages and suggestions to reduce the size. Not only that. It also pinpoints the compression details and creates new and compressed images to use on your site.
It does the same job as Google's Page Speed Insights (PSI). However, GTMetrix has seven regional test servers while PSI is geolocated. PSI uses emulated browsers that are complex and outdated. It also uses a real browser for browser testing, providing a better indication of your site's performance.
Google Search Console
Search Console is designed to ensure your site's search engines are unharmed and that you do not have errors that hurt your rankings. With Google Search Console, you can easily track and resolve site load issues, server errors, and security issues like malware and hacking. You can also streamline any site adjustments and maintenance with regard to Google search results.
Google provides website reports that can help you ensure your site is not penalized for violating rules and that it's error-free, fast, and optimized for mobile devices. With Search Console, you can:
See how well covered your site is in the Google index. This shows you how much of your website has index coverage to ensure they are as visible for search optimization as they need to be.
Identify new sitemaps to submit to Google, and check how often they get crawled. You can also check for errors that Google experienced when crawling your submitted sitemaps.
Check the status and function of individual URLs on your site using the URL inspection tool.
See if your site is hit with a manual function.
Get information about how your site is performing in key areas of user experience.
Spot and remove any malicious code.
Identify pages that don't have a responsive design.
Google PageSpeed
As mentioned earlier, Google PageSpeed Insights (PSI) does the same work as GTMetrix save for subtle differences. These are two very powerful tools that let you measure your web pages' performance and get suggestions on how to enhance the page's accessibility, performance, and SEO.
PSI helps you fix issues that slow down your web applications. It collects and returns data from an open-source tool called Lighthouse and real-world data from Chrome User Experience Report. The result is a score that summarizes the performance and a series of suggestions. Google PageSpeed lets you audit:
First Contentful Paint (FCP) – or the first point in time when the user sees any page content on the screen.
Speed Index (SI) – or how quickly the contents of a page are visibly displayed.
Largest Contentful Paint (LCP) – or the time a site takes to display the largest content on the screen.
Sites with structured data get higher click-through rates and conversions. Tools like Google's Structured Data Testing Tool offer an effective way to test your structured data and whether or not your code is correctly implemented. You can use the tool to validate Microdata, RDFa, and JSON-LD formats and implement schema on your site. The tool will also detect any errors present in the code.
Although Google is shutting down this tool, you could still access it for an undefined period. Google recommends users to run their tests through the Rich Results Test tool. With this tool, you'll be able to:
Inspect live URLs or specific structured data code snippets.
Review warnings or errors in the code
Rectify inline and check to see if the code validates
Preview how a rich snippet will show in search results
The Rich Results Test tool offers even better features that:
Approves that structured data is "right" for rich results
Render both desktop and mobile versions of how rich results would look like in search results.
Ensure dynamically created structured data is handled more effectively.
Some of these tools may seem daunting, but any decent web admin should be using some if not all of these tools when examing the health of your website.
Google My Business (GMB) is a free, multi-featured business listing that businesses can use to manage their presence on Google Maps and Google Search. Thanks to its wealth of functions and features, GMB is now considered a core part of local search engine optimization. Statistics show that around 49% of businesses listed on GMB get over 1,000 views on search every month. 33% get 1,000+ views on Maps.
Visibility is one of the greatest benefits of GMB listing. Google gets about 3.5 billion searches every day. Of this number, 46% have a local intent. Even more interesting is the fact that 88% of searches for local businesses on phones either visit or call the business within 24 hours.
As a business owner, creating a GMB listing increases your chances of listing higher up on search results.
How customers use Google My Business
Customers use GMB for a host of reasons, including to:
Find business address and directions
Find out the working hours of a business
Call a local business without having to go to its website
Visit the business website
View photos of a local business and its offerings
Make online bookings
Ask and answer questions about a local business
See available solutions
Read or write reviews about a local business
How to set up a Google My Business listing
To set up your Google My Business account, you'll first need to open a Google Account:
Go to Google.com/business and click Manage Now.
Enter your business name.
Enter the address of the business location – if you engage in face-to-face interactions with clients. If not, check the box at the bottom of the form.
Specify service area.
Choose a business category.
Add a phone number and website URL.
Complete your GMB verification through a postcard, phone, or email verification.
Once you've officially verified your listings, it's time to optimize your GMB. Here's how.
Tap into the power of GMB reviews
Most consumers use reviews to make informed buying decisions. According to the latest online review statistics, 93% of customers read reviews before visiting a business, and 88% say they trust online reviews as much as personal recommendations. With Google being the leading search engine, companies with Google My Business reviews will likely collect more clicks and conversions than those without.
The good thing about Google My Business is it allows users to review and leave feedback for others to view. Many prospects trust GMB reviews because they are testimonies of actual customers who are not affiliated with the business. Positive reviews and star ratings give your business credibility and help impact purchasing decisions. The negative ones give you valuable insights into the things you need to change. Most importantly, reviews give you a platform to impress your prospects. Each time you respond to reviews and answer questions, you show them you care.
Increase your web presence and online visibility
GMB plays a big role in helping businesses appear at the top of search within Google's Local 3-Pack. The 3-Pack is a block of listing that appears below the map in search results. As the name suggests, it's a pack of three businesses, each displaying vital business information like:
Business name
Customer reviews and star ratings
Business category
Location and address
Phone number
Business hours
Website, and
Direction
The Local 3-Pack appears when someone searches with local intent. For instance, if we search for senior homes in California, we'll get something like this:
All these businesses show up in the result because they have a GMB listing. Google pulls the reviews and NAP details from the business's Google My Business listing. The fact that a business appears at the top of the search makes GMB a critical tool.
Note: You do NOT want outdated or incorrect information about your business floating around the internet. Always keep your brand name, address, and phone number (NAP) consistent across all platforms to ensure uniformity.
Get free Google advertising
Google Ads are an excellent way for business people to advertise a business and compete against well-established companies. However, they can be costly. On the other hand, organic ranking is great but takes time. A GMB listing provides fast and free advertising on Google. With it, businesses can target local users without paying a dime. It costs nothing to create, claim and verify your listing. Profile optimization is also fast.
GMB listing puts brands in front of a large audience and gives prospects easy access to the website, direction, contacts, and business hours, all at no cost. Google shows that brands are 70% more likely to attract location visits from search. An even more impressive is that users who find a brand through their GMB listing are 50% more likely to buy.
Speak directly to your customers using GMB messages
Google My Business has a messaging feature that lets you communicate directly with customers. Activate it to communicate one-on-one with your customers, fielding comments, answering questions, and increasing loyalty. By activating this feature, you unlock the option for clients to ask a question through SMS from your GMB listing.
Note: Google calculates and displays the response time on your listing. Respond quickly to questions and inquiries to show your clients that you're active and readily available to offer help.
The message feature promotes a closer connection between you and your customers. It gives the impression that you're transparent, which can increase credibility and sales. Besides, 90% of business leads prefer text messages to a phone call, so it's a great opportunity to impress.
Add posts to share business updates
The Create Post feature lets you share insightful content about your company. At a minimum, each Google My Business post features a text, image, and a clear call-to-action. Leverage this feature to inform your clients about offers, events, what's new, and products or services. And as of spring 2020, Google my business is also providing the COVID-19 update tab where you can update your modified service options (like free delivery, takeaway only, curbside pickup, etc.), operation hours, and other relevant social distancing measures.
Use GMB insights to analyze customer paths
Measure the impact of your GMB listing with GMB insights. This built-in tool can help you understand user behavior for better deliverability. It shows you:
How people are finding your business (discovery or direct searches)
Where on Google they're finding your listing (Maps or Search)
All phone calls and when users are calling
The location that your prospects live, based on direction queries
Google also lets you compare your user-generated content, like free photos, against your competitors. You can track your gallery's image views and benchmark them against peers in your industry. With such information at hand, you're able to monitor your clients' conversion path and gain a complete understanding of their actions before reaching your site.
Categorize and describe your business to reflect your offerings
The category feature on GMB allows you to provide information to help Google understand your business's core. This way, it can surface your GMB listing for the most relevant search terms. You can also add more details of your business type and solutions, especially if some of your offerings are outside of the normal offerings of your primary category.
The description feature lets you share precise brand details so that anyone who searches for your business gets a glimpse of what you're about quickly. Ensure the description is accurate, helpful, and honest so as not to mislead customers.
Upload photos to enhance trust
Businesses with more GMB images appear in more discovery and direct searches. Recent research by BrightLocal shows that businesses with over 100 images get 1,065% more website clicks, 2,717% more direct requests, and 520% more calls than the average business. They also get more views on search and views on maps. Take advantage of the photo feature to add as many high-res images of your business as you can. This will help tell the story of your brand and communicate your value. Users share images too, but you want to monitor what they upload and ensure they are relevant.
Many sources in the past have stated that video marketing is the future of online marketing. Cisco's recent Visual Networking Index is a good example. The study predicted that global online video would account for 80% of consumer internet video traffic in 2019, increasing from 64% in 2014. In 2021 it hit 82%.
If the studies are anything to go by, then the future is already here. Most projections have come to pass, and video marketing is now at the center of every effective marketing strategy. Furthermore, viewers claim to retain 95% of what they see in a video compared to only 10% of what they read.
Entrepreneurs from all business segments are now using video as a tool to entice users across a multitude of digital marketing channels. A whopping 89% of marketers say video gives them a good return on investment, and that shouldn't come as a surprise considering the internet's insatiable appetite for video content.
If you've been wondering whether it's worth investing your marketing dollars in video marketing, you came to the right place. This article will tell you why video is essential in modern ad campaigns. But before we do that, let's quickly point out the types of videos in the digital marketing world.
Types of video content marketing
Explainer videos
Video interviews
Vlogs
Video testimonials
Videos of presentations
Video ads
Recordings of live streams
When done correctly, video can be a powerful way for businesses to create brand awareness in a way that's easily accessible to a large audience.
Reasons why video is critical in modern ad campaigns
As industry experts put it, if a picture is worth a thousand words, a video could very well be worth a thousand sales. The great news about videos is that internet users widely prefer watching over reading. They will spend twice as much time on a page with a video and even browse around the site a little longer. Here are a few more reasons why video is essential in modern ad campaigns.
Video boosts conversion
Videos don't just entertain or educate your prospects they get them to convert. The State of Video Marketing Infographic by Social Media Today notes that 90% of users say video will help them make a purchasing decision. But that's not all. Videos are a real attention-getter. More marketers are using videos to explain their products, services, and business – and there's a scientific reason for doing this.
Videos have four elements:
Human Faces
Body Language
Voices
Movement
People are wired to pay attention to these elements
In one study of online fashion retailers, those using videos on products saw a 134% boost in sales conversion.
Videos are great for SEO
Ranking on the first pages of search engine results pages (SERPs) puts a business in a strategic position to attract, educate and convert potential customers. But unless you optimize your site for search, you might never rank. Uploading a quality video on YouTube and using relevant keywords to describe it can be an effective search engine optimization (SEO) strategy. When doing keyword research, we found videos embedded in blog posts led to increased time on site of outrageous gains. It works for web searches, lead generation, pay per click, social media marketing while being delivered to your target audience.
The reason is that Google includes 82% of YouTube videos at the top of SERPs. According to Searchmetrics, 55% of all keyword searches in the US yield one or more videos blended into Google's search results. And remember, in some cases, digital video ads can pop up in standard display ads.
Furthermore, videos hold visitors to your site longer. This gives Google and other search engines the impression that your platform provides value, making it more likely to rank.
PRO TIP: Make It Unique. Creative commons videos won't cut it.
Internet users love videos
Video is practical and convenient for brands trying to connect with online traffic, as it becomes the primary means by which users browse the net. According to M Booth and Simply Measured, videos on Facebook are shared 12x more than text posts and links combined.
On YouTube, over 100 million people watch or interact with one or more videos in a week. The reason behind video uptake is apparent – users want to consume content without reading blocks of texts.
Videos build trust
Trust is at the core of any conversion or sale. Unless customers trust you, they won't buy from you. Videos are a great way to humanize your brand and build trust. They allow you to put a face and personality behind your sell sheet. Potential customers get to see the company or the people they're going to work with.
Moreover, explainer videos help customers understand how to use a product. It shows them that the product is effective and not a scam. Effective digital video advertising presents your solution in a conversational form. This creates a sense of personalized approach, which 57% of customers say gives them the confidence to buy online.
Video helps you stay competitive
Videos are great for communicating your brand message. And if you think along the lines of practicality, a precise, unique explainer video can make a real difference informing prospects about your products or services – all while entertaining.
When done right, a video can help set your business apart from your competition. If that isn't reason enough to embrace digital video advertising, then this one is. Your peers are doing it. If you don't keep up, you'll lag.
Videos appeal to mobile users
eMarketer's forecast shows that overall, 2.72 billion internet users will watch videos on their mobile devices in 2023. In the US, an average adult spends about 13 minutes accessing various video apps and digital media platforms. Most of them spend less time on TV and more time checking different applications on their phones.
This explains why many businesses are shifting from traditional marketing channels like TV to digital marketing channels (OTT). And with the ever-growing number of mobile devices used, you can be confident that your audience will keep increasing with time.
Video boosts affiliate marketing
Video content plays an integral part in driving affiliate marketing conversions and sales. As mentioned earlier, most consumers find product videos helpful when making buying decisions. Minus the video, you are losing those extra affiliate sales. In case you're wondering how to go about it, try creating videos relative to your products or services and share them with your subscribers. You can also make YouTube videos to retarget clients with other forms of advertising.
Digital video advertising is becoming more affordable. The adoption of video is partly due to technological advancements, it's easy to spread worldwide and it has a proven ROI. If you are not already using videos in your online marketing efforts, then now is the best time to join in.
--