Updated: Jan 21, 2023
Let's start with the bottom line.
" Shoppers are twice as likely to make a purchase after viewing something like a product video than they are without it." Learn more here.
That's worth repeating -- twice as likely. What would it mean to your digital marketing if you could double the number of shoppers who actually make a purchase? If we've learned anything about SEO or search engine optimization in the last few years-- it's this: You absolutely must keep up with emerging trends based on shifting consumer behavior.
Gone are the days when you could count on reaching your prospects with the same mix in your digital marketing strategy year after year. Things change faster than we expect them to when it comes to the consumption of content. In this article, we've prepared some of the main reasons you might want to take a good hard look at adding video to your mix, even if you turned it down last year.

#1. Can you afford to say no to Google?
Every day Google revises its ranking algorithms based on over 200 factors. Two of the main goal drivers are improving user experience and ensuring they can serve up more relevant information for queries.
In plain English, this means Google is constantly moving the goalposts to better reach consumers. To achieve your business goals, you must keep these shifting goalposts in your crosshairs to avoid wasting your marketing dollars.
Based on findings that in 2022, video will add up to over 80% of all web traffic, Google has already boosted the number of video carousels displayed in results pages by over 30%. This result will likely go higher in the coming months. That's how important video content is to Google.
How long will it take you to catch up?
#2. Don't get bogged down in digital trench warfare just because it's easier
SEO is a brutal game of tweaks and adjustments. It can take forever to gain a little ground on a competitor, only to lose it again when they get the jump on you next time. These hard-fought incremental gains and losses have been compared to WWI trench warfare.
So don't settle for the usual back and forth you get by doing the same thing you tend to do. Familiar tactics may indeed appear less risky and less complicated than video content because you've done them before. Still, video is compelling, and it can provide a breakthrough in the marketing battle.
How much will it cost you to test it? How much might it cost you if you don't?
#3. Are you handicapping your social media marketing, email marketing, content marketing, and organic search results?
As you take a second look at your plan for 2022, rest assured that the tried and true will work. The question is, can it work harder when rounded out with video? The pandemic spiked the increase in video demand by users, and there's no sign this trend will slow down. Adding video to your mix will provide a deeper level of engagement as you serve up more of what people want.
Did we mention, "Shoppers are twice as likely to make a purchase after viewing a product video than they are without it?"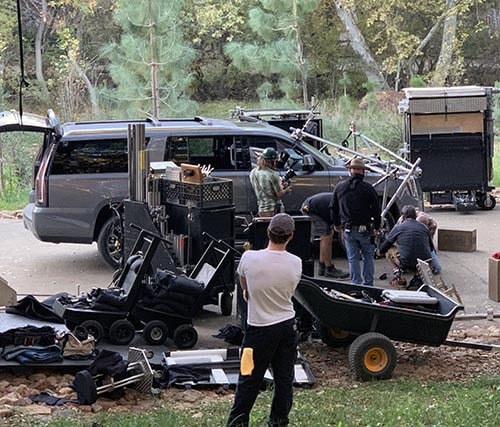 #4. Hang onto them longer with video
Dwell time on your site is closely scrutinized by search engines. If you get a decent number of people to your site, but they don't stay long, you can get dinged for that.
Here's a big surprise – your average person will more likely watch a video than they are to read, even a riveting blog post or a beautifully written paragraph or two describing your product or service. It's just a fact, search engine results that include a video are more attractive. Moreover, when it comes to your site, video significantly improves your bounce rate, which means search engines zoom you higher in their rankings.
#5. The boring -- "Hey, you've got to read this!"
Don't be that guy. You know, the guy that is always sharing some long-winded article about something you're too bored to read through to the end? How many times do you pass on an article on your social media?
Now, how many times have you linked to a video? Earning referral traffic makes a difference with Google, even though they won't spell it out for you by publishing their own secret algorithm architecture.
#6. Don't be left out of the stream
The use of streaming content is rising like a tidal wave. We know this by the increasing number of cord-cutters out there. Along with this growth comes an enormous opportunity to reach your consumer through video advertising. Studies show more and more consumers are accepting video advertising as a way to get their content free.
#7. You can't ignore the numbers in 2022
Here are some undeniable facts.
Over 90% of consumers will watch more online videos from brands and businesses in 2020. All indicators point to this going up in 2022
According to Cisco, online videos will add up to over 80% of all internet traffic in 2022, and that's a whopping 15 times higher than in 2017.
Retention of a message is over 90% when the message is watched in a video compared to only 10% when read in text
One-third of all online activity is spent watching videos, according to WordStream
#8. 5G
'nuff said.
The right kind of video can communicate more about your brand than pages and pages on your site. Videos tell stories, stir powerful emotion, change minds and provoke action. On the other end of the spectrum, nothing can simplify and explain a detailed message like a how-to video about your product or service. YouTube is a perfect example of how videos can explain, entertain and engage.
#10. Video is now easier than you think
Here are some tips for your videos.
Use engaging title tags and thumbnails. Here's an example of why. You can get a 30% higher CTR when you feature people in your thumbnails.
Stuff turkeys, not keywords. No more than 2% density throughout your descriptive copy is recommended for video. Less is more. Stick to your most important keywords for your title if you're looking for an SEO bump.
Emotional or Educational – limit your options. Don't try to do everything with every video. Let emotional videos be emotional, funny, cute, or entertaining, and let educational videos be simple and easy to follow.
Less is ALWAYS MORE. Google's algorithms reward videos that keep users engaged. Be brutally honest with yourself. Will a consumer find more than three minutes of your video worth watching? Of course, you would like them to, but will they? It's no good to stretch your video only to have viewers cut it off.
When it comes to your query, count on auto-complete search behavior. Google wants you to succeed, so take advantage of what they suggest.
#11. Short Form Video is on Fire
TikTok, whether you like it or not is taking over. Among Gen Z content consumers, the platform ranks #1 for media consumption per minute. Google ranks 5th. TikTokers consume 167,000,000 minutes of content per month. Facebook live comes in a distant second at 44,000,000.
Ask your marketing team what they are doing to grab these eyeballs. Remember, in the world of TikTok, lo-fi beats highly produced corporate content, and authenticity is key if you want to be watched.
Like it or not, there are already over 50 million Americans who have become Cord-Cutters/Cord-Trimmers and Cord-Nevers. In varying degrees, they have said "No" to cable or satellite companies, and this will most probably affect your digital marketing and that of your competitors as well. This article will dig deeper into what's going on in the marketplace, how this relatively new consumer behavior is growing in popularity, and what implications this can have on your marketing strategy.  
More than just a few nerds on the fringe
Cord-cutting was relatively rare among the average American consumer only a handful of years ago. Today, some analysts describe the growing trend of cord-cutters as dismantling the cable tv industry. But, if recent history has taught us anything about digital consumption, today's 50 million cord-cutters will soon double and triple faster than our ability to accommodate the implications.

Who are the 50 million?
Cord-Cutters and the less common moniker -- Cord-Trimmers, have pared down or completely severed their tv content relationship with their cable or satellite provider. Specifically, Cord-Cutters, as the name suggests, no longer pay their cable company for tv content. However, some may still receive their internet access and telephone landline from their cable company.
On the other hand, Cord-trimmers usually purchase the bare minimum of tv content from their cable company. There may be several reasons for this, not least of which may be a "bundled price offer" made by their cable provider. In this way, some cable providers "force" a minimum purchase of cable tv so that consumers qualify for a more reasonable price on the internet service they want.
Cord-Trimmers in this category may consume all of their tv content by streaming it through providers like Apple TV, even though their contracts identify them as cable tv buyers. This means the number of streaming-only-group might be even more significant than we realize.
Cord Nevers are entirely different. These people have never received their television content from a cable company, and today they represent approximately 31 million people. They consume a considerable amount of content through streaming.
What do we know about them?
Cord-Nevers tend to be younger. 90% of Americans aged 25 to 34 use a digital streaming service and are not interested in traditional long-term contracts for their tv viewing. They are most likely to be Youtube watchers, mobile-oriented, and active in social media. There are regional differences for these groups across the country, and generally, these differences follow well-known tech adoption trends.
Cord-Cutters and Trimmers a skew a little older to 49. As this trend becomes more popular, the age segment stretches a little older. As the idea spreads, more and more older people are joining in.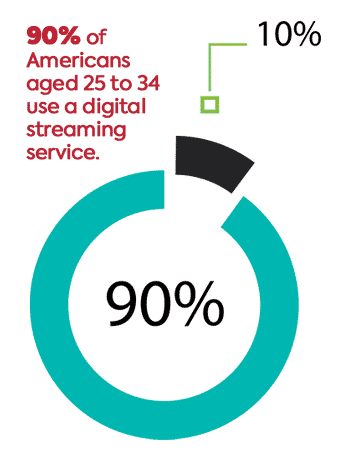 These people are digitally savvy and consume a significant amount of content. Binge-watching their favorite shows is common among this segment.
What motivates cord-cutting and trimming?
Saving money: "Do you want fries with that?" is an all-too-common pricing practice among cable and satellite providers. What begins as a reasonably priced introductory offer quickly balloons into exorbitant fees piled up as high as a car payment. Each new "add-on" helps providers nickel and dime their way to emptying your wallet.
Depending on the streaming service, the fee to watch the same amount of content is only a fraction of what it would be for a traditional provider. For example, Apple TV starts at only $4.99 a month. Netflix basic is only $9.99 a month. Hulu is $11.99 a month.
Multi-way streaming: Multiple people in the same household can watch their favorite programs and films using a wide variety of smart devices. No more squabbles about whose turn it is to watch their favorite movie. Everyone gets to watch what they want on their own device. Some serial tv programs can be downloaded ahead of time and then watched on a plane whenever or wherever they like – even when unable to connect to wifi.
Wide variety of services: Cord-Cutters and Cord-Nevers can enjoy a growing number of ideal replacements for a traditional broadcast tv program. Instead, they can cherry-pick their very own mélange of content through services like Hulu, Disney, and Netflix.
Keep your local favorites: It's difficult to estimate how many people still haven't "cut the cord" because they don't want to miss out on local news and live sports. However, they may not yet be aware that some services like Hulu + LiveTV enable you to continue watching these and cutting the cord.
Review additional marketing research here.
How can this affect my marketing strategy?
Even if you and your competitors don't currently participate in media buys that involve broadcast tv, everything is changing so fast the time might be ripe for you to start planning on taking advantage of all the changes. New, cost-effective video marketing strategies are made possible because of highly-targeted campaigns that wouldn't have been possible with traditional broadcast tv buys.
Branded Youtube Channels
You don't need a whole broadcast network media-buy to get the word out about your product or service. Content marketing populated with your own customer testimonials and video ads can work wonders for you on Youtube.
OTT and CTV
Video views are video views, and they're sometimes even more effective when you can pinpoint them to a very specific target. OTT (Over The Top) refers to streaming content to customers directly over the web. Online videos you may already have and/or new short videos featuring your product or service can easily be added to this content.
CTV (Connected TV) refers to any screen connected to a streaming service. This includes gaming consoles and smart tv.
The benefits of OTT & CTV
- Highly targeted, precise audiences eliminate the waste of your message going to the wrong people
- Rapidly growing market of young consumers who are cord-cutting from which you can mine your prospects
- Extraordinary measurability. For example, you can measure impressions by daypart, device, date, and day of the week.
Do you have a solid and effective marketing strategy that includes cord-cutters?
Many sources in the past have stated that video marketing is the future of online marketing. Cisco's recent Visual Networking Index is a good example. The study predicted that global online video would account for 80% of consumer internet video traffic in 2019, increasing from 64% in 2014. In 2021 it hit 82%.
If the studies are anything to go by, then the future is already here. Most projections have come to pass, and video marketing is now at the center of every effective marketing strategy. Furthermore, viewers claim to retain 95% of what they see in a video compared to only 10% of what they read.
Entrepreneurs from all business segments are now using video as a tool to entice users across a multitude of digital marketing channels. A whopping 89% of marketers say video gives them a good return on investment, and that shouldn't come as a surprise considering the internet's insatiable appetite for video content.
If you've been wondering whether it's worth investing your marketing dollars in video marketing, you came to the right place. This article will tell you why video is essential in modern ad campaigns. But before we do that, let's quickly point out the types of videos in the digital marketing world.
Types of video content marketing
Explainer videos
Video interviews
Vlogs
Video testimonials
Videos of presentations
Video ads
Recordings of live streams
When done correctly, video can be a powerful way for businesses to create brand awareness in a way that's easily accessible to a large audience.
Reasons why video is critical in modern ad campaigns
As industry experts put it, if a picture is worth a thousand words, a video could very well be worth a thousand sales. The great news about videos is that internet users widely prefer watching over reading. They will spend twice as much time on a page with a video and even browse around the site a little longer. Here are a few more reasons why video is essential in modern ad campaigns.
Video boosts conversion
Videos don't just entertain or educate your prospects they get them to convert. The State of Video Marketing Infographic by Social Media Today notes that 90% of users say video will help them make a purchasing decision. But that's not all. Videos are a real attention-getter. More marketers are using videos to explain their products, services, and business – and there's a scientific reason for doing this.
Videos have four elements:
Human Faces
Body Language
Voices
Movement
People are wired to pay attention to these elements
In one study of online fashion retailers, those using videos on products saw a 134% boost in sales conversion.
Videos are great for SEO
Ranking on the first pages of search engine results pages (SERPs) puts a business in a strategic position to attract, educate and convert potential customers. But unless you optimize your site for search, you might never rank. Uploading a quality video on YouTube and using relevant keywords to describe it can be an effective search engine optimization (SEO) strategy. When doing keyword research, we found videos embedded in blog posts led to increased time on site of outrageous gains. It works for web searches, lead generation, pay per click, social media marketing while being delivered to your target audience.
The reason is that Google includes 82% of YouTube videos at the top of SERPs. According to Searchmetrics, 55% of all keyword searches in the US yield one or more videos blended into Google's search results. And remember, in some cases, digital video ads can pop up in standard display ads.
Furthermore, videos hold visitors to your site longer. This gives Google and other search engines the impression that your platform provides value, making it more likely to rank.
PRO TIP: Make It Unique. Creative commons videos won't cut it.
Internet users love videos
Video is practical and convenient for brands trying to connect with online traffic, as it becomes the primary means by which users browse the net. According to M Booth and Simply Measured, videos on Facebook are shared 12x more than text posts and links combined.
On YouTube, over 100 million people watch or interact with one or more videos in a week. The reason behind video uptake is apparent – users want to consume content without reading blocks of texts.
Videos build trust
Trust is at the core of any conversion or sale. Unless customers trust you, they won't buy from you. Videos are a great way to humanize your brand and build trust. They allow you to put a face and personality behind your sell sheet. Potential customers get to see the company or the people they're going to work with.
Moreover, explainer videos help customers understand how to use a product. It shows them that the product is effective and not a scam. Effective digital video advertising presents your solution in a conversational form. This creates a sense of personalized approach, which 57% of customers say gives them the confidence to buy online.
Video helps you stay competitive
Videos are great for communicating your brand message. And if you think along the lines of practicality, a precise, unique explainer video can make a real difference informing prospects about your products or services – all while entertaining.
When done right, a video can help set your business apart from your competition. If that isn't reason enough to embrace digital video advertising, then this one is. Your peers are doing it. If you don't keep up, you'll lag.
Videos appeal to mobile users
eMarketer's forecast shows that overall, 2.72 billion internet users will watch videos on their mobile devices in 2023. In the US, an average adult spends about 13 minutes accessing various video apps and digital media platforms. Most of them spend less time on TV and more time checking different applications on their phones.
This explains why many businesses are shifting from traditional marketing channels like TV to digital marketing channels (OTT). And with the ever-growing number of mobile devices used, you can be confident that your audience will keep increasing with time.
Video boosts affiliate marketing
Video content plays an integral part in driving affiliate marketing conversions and sales. As mentioned earlier, most consumers find product videos helpful when making buying decisions. Minus the video, you are losing those extra affiliate sales. In case you're wondering how to go about it, try creating videos relative to your products or services and share them with your subscribers. You can also make YouTube videos to retarget clients with other forms of advertising.
Digital video advertising is becoming more affordable. The adoption of video is partly due to technological advancements, it's easy to spread worldwide and it has a proven ROI. If you are not already using videos in your online marketing efforts, then now is the best time to join in.
--